Ventilation systems are equipment that have become widespread in companies and represent a high energy consumption: from 5 to 10% in industry and about 17% in the tertiary sector (source: FH-ISI).
Their energy consumption can account for 90% of the total costs incurred due to the high number of operating hours.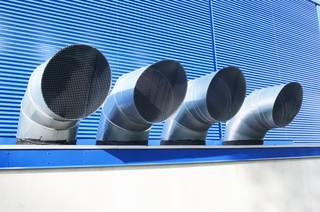 Potential improvement measures

Adjust the airflow correctly
 
A flow rate that is too high greatly increases the electrical consumption.
An excessively low flow results in more energy waste due to the preponderance of internal mechanical friction.
If airflow demand varies, airflow adjustment is a potentially cost-effective option. There are two types of solution:

the best solution: fit the fan drive with a variable speed control unit.
the simplest measure: reduce or limit the suction flow. However, this solution is not always ideal.
Potential savings: up to 50% by reducing the flow rate by 20% 
Recover the heat

It is recommended that a heat recovery system be installed to limit heat loss caused by the ventilation system.

Adjust for ambient conditions

Temperature, humidity or airflow requirements are sometimes too stringent. This practice was widespread in the past, when the cost of energy was negligible. Here are the parameters to take into account:
adjustment of the ventilation rate: this has a strong influence on the power absorbed by the ventilation system and on the useful heating or cooling power
temperature adjustment
if possible, increase the tolerance ranges for humidity: air dehumidification is energy-intensive, as it requires cooling followed by heating.

Optimise equipment maintenance
 
Maintenance of transmission components: belts, gears, bearings and air filters, in order to avoid breakdowns or health problems and to maintain the energy performance level of these installations.
Repair of major air leaks in the ventilation network.

Use energy-efficient fans
 
In non-residential buildings, the specific power classes are expressed according to DIN13779: SFP 01 (the most energy efficient) to SFP 07.
European eco-design requirements[SG1] [JM2]  impose minimum efficiency levels for new fans introduced on the market.
Fans with backwards-curved blades offer savings of up to 30% compared to Fans with forward-curved blades.
Potential savings: up to 90% between energy efficiency classes SFP01 and SFP 07 (DIN 13779).

Opt for more efficient electric drives
 
High energy efficiency drive motors (IE2 with inverter, IE3 or IE4).
Efficient mechanical drives: direct drive is preferred.

Pay attention to the design of ventilation networks
 
A sufficiently large cross-section of ducting is required to limit the speed of air flow.
The use of round pipes is recommended.
Sharp bends and reductions in cross-section should be kept to a strict minimum.
Potential savings: an increase in the diameter of the pipes of 10% makes it possible to achieve a saving of about 30% in absorbed power for an identical flow rate.