I have a suitable roof surface that is in a good position to absorb sunlight, which means that I can have photovoltaic panels installed to produce electricity. This way, I can help protect the climate and reduce my energy bills.
I actively contribute to climate protection.
Solar power is an inexhaustible, renewable and low-carbon energy source. Unlike fossil fuels, photovoltaics emits very little CO2, helping to decarbonise our energy system and slow down global warming.

The energy payback time (the time needed for a photovoltaic installation to produce the same amount of energy as was required to manufacture it) for photovoltaic panels is generally less than two years in our region.

My choice to invest in the sun to produce electricity represents an important step in the transition to renewable energies!
I generate my own electricity, which I can use myself or share with others!
If we're talking about energy transition, let's also talk about self-consumption and electricity sharing! Investing in the sun is also a great opportunity to become more self-sufficient. The energy I produce helps to cover the electricity demand in my home, meaning I can reduce the amount of electricity I need to buy from my energy supplier. I can thus consume the electricity I produce to meet my own consumption needs, for example to power my electric household appliances, my heat pump, or to charge my electric car during the day. I can sell the rest of my production to my electricity supplier, who also guarantees my energy supply if the photovoltaic production is not sufficient to cover my needs.
Illustration of energy flows for self-consumption
This graph depicts photovoltaic electricity production (dark blue curve, the ideal scenario on a cloudless day) and household electricity consumption (yellow curve). The area highlighted blue represents the amount of photovoltaic electricity consumed by the household. The surplus ( i.e. if there is more production than consumption) is then fed into the electricity grid (light blue surface area).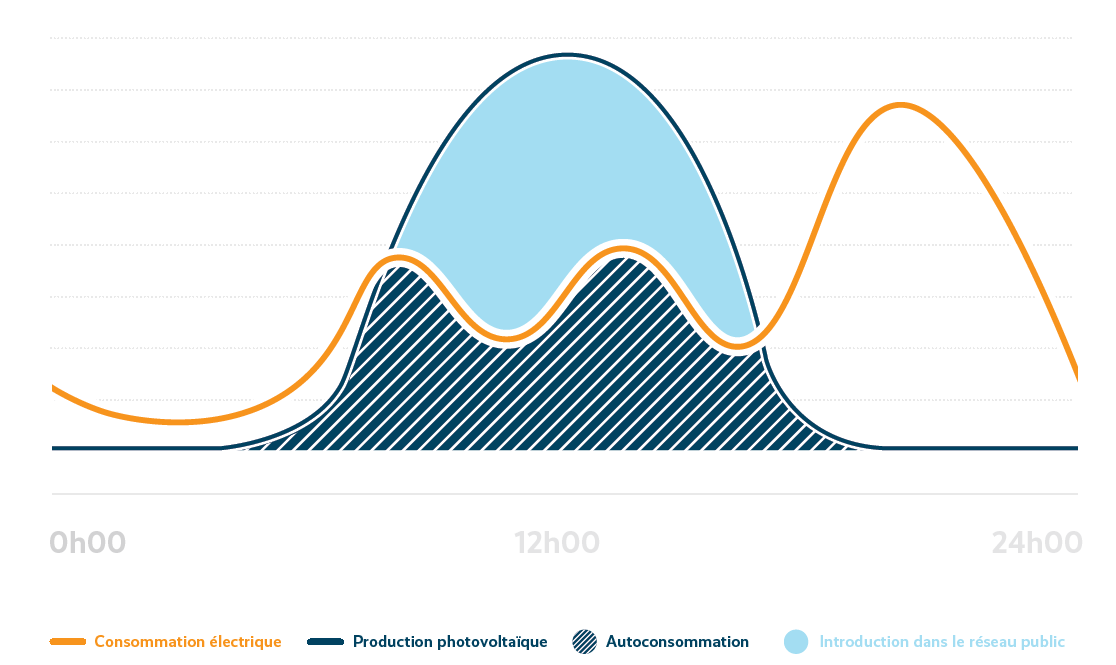 If I want to additionally share (i.e. sell) the electricity I generate with other users, I can do so within the framework of collective self-consumption (e.g. in an apartment building) or in a renewable energy community. The latter allows sharing or selling energy between different partners (neighbours, family, friends, ...). In a renewable energy community, members can produce, consume, store, and sell electrical energy generated by photovoltaic systems owned by the community or its members.
These concepts of collective self-consumption or a renewable energy community allow me to avoid certain electricity taxes and, where applicable, the associated costs of using the electricity grid.
To find out how to set up self-consumption or electricity sharing, I can refer to the procedural steps or find more detailed information
By producing photovoltaic electricity, I can make money
In addition to receiving an investment subsidy for my photovoltaic installation, I can benefit from the feed-in tariff for the generated electricity or sell it to an energy supplier.
There are two options for investment aid, both of which support self-consumption and feed-in to the grid.
20% investment subsidy: in addition to this subsidy, I receive a guaranteed feed-in tariff from the government for 15 years for the electricity fed into the grid.
50% investment subsidy: in addition to this subsidy, I forfeit the feed-in tariff and sign a contract with a supplier for the electricity I feed into the grid.

For quotations signed between 1.1.2023 and 31.12.2023: increase of investment aid to 62.5 %.
In both instances, I get financial support and a revenue stream that enables me to offset my investment. As a self-consumer, I can also reduce my dependence on increasing electricity prices.
Find out more about Klimabonus subsidies
Find out more about feed-in tariffs
Before starting my project to install photovoltaic panels, I analyse its viability and estimate the time needed to pay off my investment by consulting the solar cadastre.
The "plug & play / balcony" photovoltaic system: the basic solution if I don't have a suitable roof
A Plug & Play photovoltaic installation is a system with a maximum output of 799 Wp (inverter capacity) that does not require permission from the grid operator and that can, on principle, be connected directly to a normal household socket.
The energy cooperative: a collective solution for producing solar energy
If I cannot get panels installed on my roof, or if I want to invest further in solar power, I can arrange to set up or take part in an energy cooperative. This is a community-based project that also allows you to benefit from feed-in tariffs for power plants of up to 500 kWp.

Here I can find out more about the necessary steps, model documents and the feed-in tariffs for energy cooperatives.
Downloads
If you are interested in creating or participating in a cooperative, Klima-Agence provides you with templates of statutes for the creation of a cooperative or civil society, as well as a comparative table of these two legal entities and a template for a roof rental contract.
Make my simulation online
I fill in the information about my project and I immediately get a simulation of the subsidies I can receive to produce electricity.
I access the forms to apply for the corresponding grants.
At any time I can get in touch with a Klima-Agence advisor to be supported in my simulation.
Make an appointment with an advisor with a Klima-Agence advisor